Essential Graphic Designer's Free Resource Kits for graphic design projects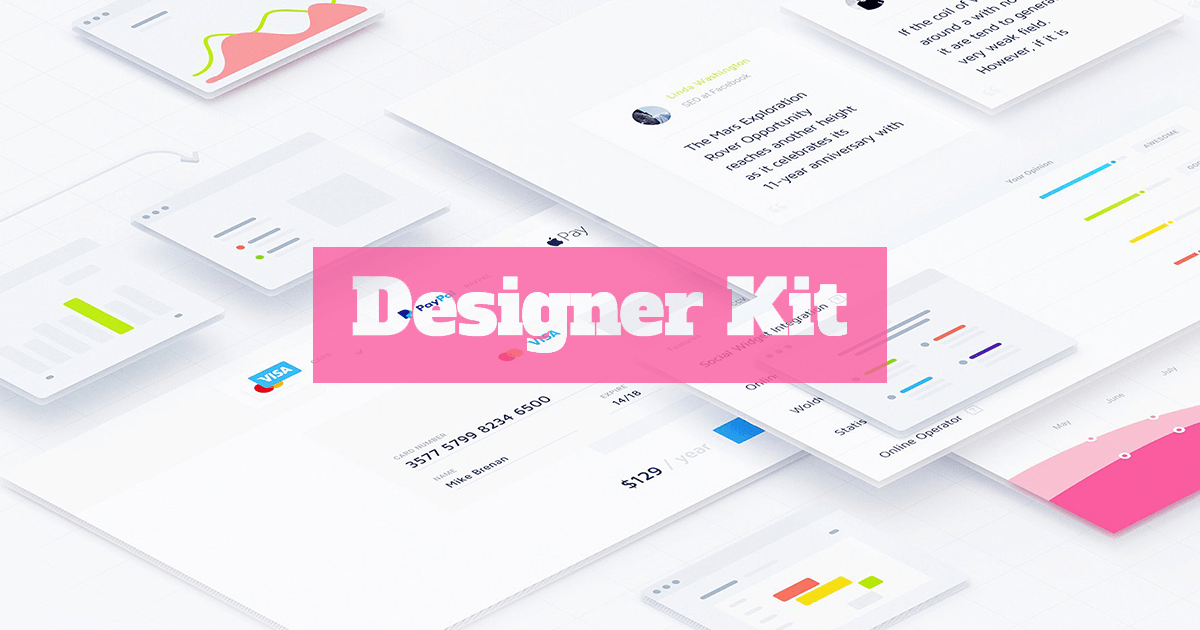 Being a great freelance designer is a matter of exceptional skills and dedication to creating an outstanding product that speaks to your client's target audience. Having a vast library of design resources helps creatives optimize their work habits and quickly transfer their ideas into visuality. Design is built on ideas and perceptions that form the core of every great project. With the right tools & resources, designers can create better products while reducing the time needed to complete their projects.
Getting into graphic design and don't know what resources you need? Here is a recommended graphic design pack for you where you can pick which items you want. There are a lot of tools and assets you can use to kick up your design standards or speed up your work.
Free Graphic Resources
FreePik
Need some free vector designs? FreePik is the place for you. Claiming to be the leading search engine for such graphics, there are over a million free vectors and photographs at your fingertips. More than a million free vectors, PSD, photos and free icons. Exclusive freebies and all graphic resources that you need for your projects. Freepik is the leading search engine of free vector designs. At Freepik we use a freemium business model which means, the majority of the resources offered at Freepik can be used for free, only having to credit the author of the illustration to Freepik. In addition, for a small fee, you can subscribe to the Premium plan and use all our illustrations.
Pixeden
Pixeden is hard at work providing quality premium and free web resources and graphic design templates. Enjoy! Looking for lots of free graphics and web resources all in one place? Pixeden has a little bit of everything. With plenty of graphic design and web design templates, icons and vectors – you'll be spoilt for choice. You can join for free but if you want a little extra, you can upgrade to one of their premium plans too.
Vecteezy
Choose from over 100000+ free vectors, clip art designs, vector images, icons, and illustrations created by artists worldwide! Download free vector art. Vecteezy is an online marketplace for community-generated royalty-free vector illustrations. 7409 Best Wiki Free Vector Art Downloads from the Vecteezy community. Wiki Free Vector Art licensed under creative commons, open source, and more.
Vectorstock
Royalty free vector images, vector art, graphics, clipart, illustrations and high resolution stock images. Find the vectors you want! The World's Leading Vector Only Stock Graphics Agency, Download Royalty Free Vector Graphics, Symbols, Illustrations, Icons, Design Elements.
GraphicBurger
Tasty design resources made with care for each pixel. Free for both personal & commercial use. Have a bite! GraphicBurger is a buffet of premium quality design resources offered for free to the community. Here you'll find exclusive PSD files "cooked" in-house along with featured top-notch freebies from creatives around the world.
Freevector
FreeVector.com is a place to download free vectors, icons, wallpapers and brand logos. It is a creative source for design news, inspiration, graphic resources.
All-free-download
Huge collection of graphic resource for designer include: vector graphic art, vector images, vector illustration, free photos, free hd photo, free pictures. Free Photos – Background – Popular – Logos – Banner – Icon. Huge collection of graphic resource for designer.
Free Icons
FlatIcon
Over 130,000 vector icons grouped together in 1,849 packs – that's the promise from FlatIcon that brings you a ton of free icons to download and keep. 1186500+ Free vector icons in SVG, PSD, PNG, EPS format or as ICON FONT. Thousands of free icons in the largest database of free vector icons!
Iconfinder
Iconfinder is the leading search engine and market place for vector icons in SVG, PNG, CSH and AI format. Iconfinder is a web company whose main product is a search engine for icons. The company was founded in 2007 by Martin LeBlanc Eigtved. Iconfinder gained popularity after a relaunch in 2009 and is now the largest icon search engine with more than 2 million unique users per month.
Icons8
Single icon pack with 85100 free icons. Each icon is in 5 flat styles. Download as PNG, SVG, or as a font. "Love" is the actual word that people use when describing Icons8. We love them
too, and help with freebies, advice, and secret random acts of kindness. All icons are done by a single designer, so your user interface will look consistent.
Iconstore
A library of free vector icons for personal and commercial projects, designed by first-class designers. Browse our collection of free flags vector icons. Browse our collection of free hand gestures vector icons.
Iconsflow
FreeIconMaker is an online Icon editor that allows you to create your own Icon set without any design experience. Absolutely FREE! Create dozens of personalized icons for your App, Web, Creative projects & Startups. Design outlined, solid, webby and flat icons for free!
Thenounproject
Use the Noun Project Icon API to tell visual stories, create real-time infographics, build interactive games, or whatever crazy idea you have. The Noun Project is a website that aggregates and catalogs symbols that are created and uploaded by graphic designers around the world. Based in Los Angeles, the project functions both as a resource for people in search of typographic symbols and a design history of the genre.
Free Stock Photography
Pexels
Free stock photos you can use everywhere. ✓ Free for commercial use ✓ No attribution required. Browse through the most popular searches on Pexels. By providing free stock photos Pexels helps millions of creators all over the world to easily create beautiful products and designs. Pexels provides high quality and completely free stock photos licensed under the Pexels license. All photos are nicely tagged, searchable and also easy to discover through our discover pages.
Canva
Canva is a graphic-design tool website, founded in 2012. It uses a drag-and-drop format and provides access to over a million photographs, graphics, and fonts. It is used by non-designers as well as professionals. The tools can be used for both web and print media design and graphics. Create beautiful designs anywhere with Canva. Download the Canva app for Android today. Get it on Google Play. Canva on Android.
Unsplash
Beautiful, free images and photos that you can download and use for any project. Better than any royalty free or stock photos. Unsplash is a website dedicated to sharing copyright-free photography under the Unsplash license. The website claims over 100,000 contributing photographers and generates more than 9 billion photo impressions per month on their growing library of over 690,000 photos.
Stocksnap
The #1 source for beautiful free photos. High quality and high resolution stock images free from all copyright restrictions (CC0) – no attribution required. The latest free stock photos and images from StockSnap. All photos on StockSnap fall under the CC0 license. Browse through beautiful high-resolution nature photos.
Pixabay
Discover the best source for free images and videos. Free for commercial use ✓ No attribution required. Pixabay.com is an international website for sharing high quality public domain photos, illustrations, vector graphics, and film footage. As of November 2017, Pixabay offers over 1,188,454 free photos, illustrations, and vectors and videos. Over 1.5 million royalty free stock photos and videos shared by our generous community.
Pxhere
Over 1013307 high quality photos. Free for commercial use. No attribution required. Do whatever you want (CC0). On Pxhere you may find and share images free of copyrights. All pictures are released under Creative Commons CC0 into the public domain. You can copy, modify, distribute, and use the images, even for commercial purposes, all without asking for permission or giving credits to the artist. However, depicted content may still be protected by trademarks, publicity or privacy rights. Read more in our blog.
Burst
Free stock photos for websites and commercial use. Download free, high-resolution images. Burst is a free stock photo platform that is powered by Shopify. Our image library includes thousands of high-resolution, royalty-free images that were shot by our global community of photographers. We built Burst to provide designers, developers, bloggers and entrepreneurs with access to beautiful free stock photography. You can use our pictures for just about anything — your website, blog or online store, school projects, Instagram ads, facebook posts, desktop backgrounds, client work and more. All our photos are free for commercial use with no attribution required; you can read more about this on our license page.
Free Typography Resources
Google Fonts
Google Fonts is a library of 900 libre licensed fonts, an interactive web directory for browsing the library, and APIs for conveniently using the fonts via CSS and Android. Making the web more beautiful, fast, and open through great typography.
FontStruct
FontStruct is a free, font-building tool funded by advertising and some generous sponsors. With FontStruct you can easily create fonts using geometrical shapes. FontStruct. Build, Share, Download Fonts.
Font Squirrel
Font Squirrel scours the internet for high quality, legitimately free fonts . Download thousands of completely legal, high quality, free fonts. Free fonts have met their match. We know how hard it is to find quality freeware that is licensed for commercial work. We've done the hard work, hand-selecting these typefaces and presenting them in an easy-to-use format.
1001 Fonts
18784 free fonts in 9915 families · Free licenses for commercial use · Direct font downloads · Mac · Windows · Linux. Download fonts that are free for commercial use. All font preview images used on this website are owned by 1001 Fonts. This pertains to all character map images, waterfall images, and all generated text-sample images. You are granted permission to use these images free for personal use. Commercial use of the character map images and waterfall images is prohibited.
DaFont
Archive of freely downloadable fonts. Browse by alphabetical listing, by style, by author or by popularity. Over 170000 free fonts download. Dafont free browse by alphabetical listing, by category. Da font, Defont, Dufont, dafont free, Difont.
Adobe Fonts (Typekit)
Typekit is an online service which offers a subscription library of high-quality fonts. The fonts may be used directly on websites or synced via Adobe Creative Cloud to applications on the subscriber's computers.
Free Colors Resources
Adobe Color CC
Create color schemes with the color wheel or browse thousands of color combinations from the Kuler community. Capture colour combinations whenever inspiration strikes with Adobe Color CC and your iPhone, iPad or Android device. Your colour themes are automatically. Browse "download" color themes created by art, design, and color enthusiasts. Or, quickly create and experiment with "download" color variations.
Coolors
Generate perfect color combinations for your designs. Press the spacebar and done! Create beautiful color schemes that always work together. Pick up starting colors from your images and get the perfect combination automatically. Login to your account and access your creations everywhere.
TinEye
TinEye is a reverse image search engine developed and offered by Idée, Inc., a company based in Toronto, Ontario, Canada. It is the first image search engine on the web to use image identification technology rather than keywords, metadata or watermarks. TinEye allows users to search not using keywords but with images.
ColorZilla
ColorZilla is a Mozilla extension that assists web developers and graphic designers with color related and other tasks. ColorZilla allows getting a color reading from any point in the browser, quickly adjusting this color and pasting it into another program, such as Photoshop.
Pictaculous
Generate a color palette from PNG, JPG or GIF image/photo. Receive color suggestions, download Photoshop swatches (.ACO). A color palette generator powered by deep learning. TinEye Color extraction displays a color palette for all the colors identified in your image. Palette.ninja is an online color scheme generator that allows you to create harmonious color schemes in seconds.
This resource kit aims to highlight current design trends and some must-have assets for every graphic designer. Need a more hands-on approach to your designs? Consider enlisting the help of the good folks at UXOUI for your creative needs.
---